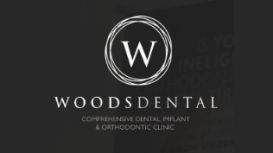 Above all else Woods Dental is family practice providing outstanding patient care with strong family values. We are a million miles away from the faceless corporate practices we see in the high street today. We want to build relationships with our patients and nurture you from cradle to grave, keeping you healthy, pain-free, disease-free and with as many of your teeth and as much of your natural tooth structure intact as possible.
The vision started in 2009 with brothers Richard and Christopher Woods wanting to create an environment where they could deliver the very best in general dental care. This vision has evolved and grown through the years and we now provide a vast array of general, cosmetic and specialist dental services within the practice. In order to meet this commitment, we have recruited a highly skilled and dedicated team and have invested in the latest equipment, laboratory support and staff training. Our aim is to provide as much treatment as we can in-house, with collaboration between or general dentists, specialists, hygienists and therapists to deliver a level of all round care that is rarely seen.
At Woods Dental the patient journey combined with delivering excellence in dentistry is our key focus. Our highly skilled team are dedicated to providing a complete care approach to your dental needs, using the best clinical techniques and state of the art technology.
In addition to our offer of outstanding dental care, at Woods Dental our aim is to treat all of our patients as individuals – we will always have time to listen to your questions and comments. We tailor treatments to your individual needs because we understand each patient is unique. Your comfort is our priority and our practice has been designed to provide the optimum level of care.
---
Services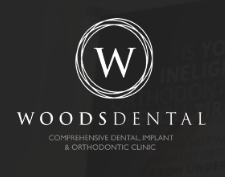 At Woods Dental we have a particular interest in orthodontics for both adults and children. We offer both conventional orthodontic treatment and short term orthodontics. We believe that in most cases the best solution to creating a healthy smile is orthodontics. This mode of treatment avoids the damage associated with restorative solutions such as porcelain veneers or the long-term maintenance of cosmetic bonding procedures.
If you are interested in orthodontic treatment we would advise you book a consultation with our Specialist Orthodontist Rebecca Wilson. She will identify any additional dental health problems and refer you on to an appropriate colleague if additional restorative dental treatment is required. She also works closely with our Specialist Oral Surgeon Rob Adams in cases requiring dental implants to replace missing teeth.
Our specialist orthodontist identifies the optimal treatment for each individual. Expertise and state-of-the-art technology deliver a healthy, straight smile as discreetly and quickly as possible – ideal for adults seeking the smile they have always desired or parents who want to invest in getting their child's bite and smile just right.
Orthodontics is the practice of preventing and correcting irregularities of the teeth and jaws, by the use of braces. An orthodontist is a specialist in the diagnosis, prevention and treatment of dental and facial irregularities. They undergo additional years of specialised education beyond dental school to learn the proper way of aligning and straightening teeth to deliver both function and aesthetics.
The gold standard for orthodontic treatment is conventional orthodontics with fixed brackets overseen by a specialist orthodontist. Treatment can last anywhere from 6 months to 2 yrs + depending on the complexity of the problem.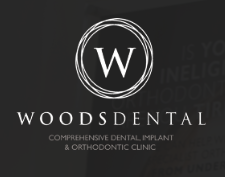 A dental crown is a professionally manufactured cover that is placed over a natural tooth in order to help restore its appearance and function.
Crowns are used for many reasons- most commonly to protect or cover a broken or severely decayed tooth so that you can use it as normal.
A crown is often placed over a tooth when it has lost the strength to support a normal filling- or when the decayed area is very large. They are commonly used to finish a root canal treatment- usually in the back teeth which require more strength due to the greater pressures exerted by the posterior teeth.
A crown enables us to restore strength to a tooth whilst also maintaining a natural feel and finish. Once you are used to your crown it will feel just the same as your other teeth- blending in perfectly as if it has always been there.
Reviews and Ratings
We do not have any reviews about Woods Dental available right now.